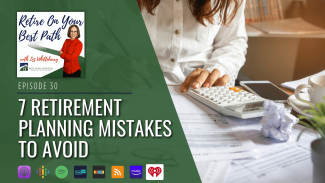 7 Retirement Planning Mistakes to Avoid
Do you have a well thought out written plan that connects your family values with your resources and ensures you can live the retirement you want to live while leaving the legacy you want to leave. Whether you already have a plan, or you're looking to create a plan, you'll want to know some common mistakes you should avoid.
Join us today as we'll run through an important list of seven mistakes that you want to avoid when putting together your retirement plan. Here's what we'll cover on the show:
1. Not taking inflation into account
2. Bad longevity numbers
3. No big-ticket items
4. Not adjusting properly for taxes
5. Double counting our assets
6. Inappropriate risk
7. No simple, plain English explanations
Here are the key takeaways from today's episode:
Retiree inflation can be higher than the average CPI and that can have a tremendous impact on your buying power over the long term.
Are you factoring in the big purchases you know you're going to make and those that could creep up?
We see plans that don't have tax calculations built or have assets in the wrong tax category which can overstate your cash flow in retirement.
Is your risk lined up with your retirement? We want to make sure your investment plan is supporting your retirement income plan.
FEATURED QUOTE
something that retirees need to really understand that their inflation could
be higher than the average CPI.