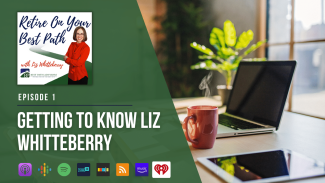 Ep 1: Getting to Know Liz Whitteberry
Before we really hit the ground running into the financial and retirement topics that matter the most, we wanted to spend a few minutes laying the foundation for the podcast.
On this first episode, we'll tell you a little more about our host, Liz Whitteberry, RMA®, CFA®, CIPM®, ChFC®, AIF®. From how she got her start in financial planning to what she hopes you get out of the podcast, we want you to get to know who we are and what we do.
Listen to this week's show to learn more about:
How one class changed her entire career path and showed her there was much more to finance than just making ends meet. (2:15)
Why education has become the best part of her job. (9:31)
Our goals for the podcast as we move forward and who we think will get the most out of our show. (13:36)
Enjoyed the episode? Make sure to subscribe and share with your friends and family.