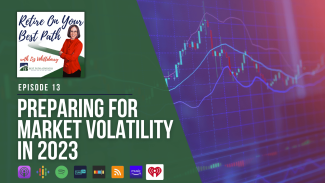 Ep 13: Preparing for Market Volatility in 2023
Market volatility became the norm in 2022. The question investors are asking now is are we in for more of the same in 2023?
In this episode, we'll talk about the market outlook for the next 12 months, plus share tips on how you can best prepare for potential future volatility.
Here's some of what you'll learn in this episode:
What predictions are the experts making for 2023? (1:46)
We all have to be very mindful of recency bias when we make financial decisions. (4:39)
How should you react during times of volatility.  (8:39
Can you build a portfolio that avoids volatility altogether? (11:19)
What do you think the year looks like for someone that's thinking about retiring? (18:23)
If you are interested in learning more about how we could help you plan for retirement, contact us here: https://www.bestpathadvisors.com/contact