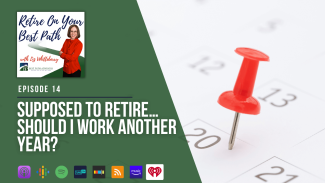 Ep 14: Supposed To Retire… Should I Work Another Year?
Did you plan to retire in 2023, but now you're second guessing if that's a wise move given the bad year in the stock market in 2022 and an uncertain economy in the months ahead? You're not alone if you're reconsidering your original retirement date.
 On this episode of Retire On Your Best Path, Liz will tell us about how these conversations are playing out in her office with clients and she'll detail the pros and cons of adjusting your retirement date.
 Here's some of what you'll learn in this episode: 
Marc and Liz address some of the economic headwinds that are causing people to rethink their original retirement dates. (2:06)
Liz says there are some tradeoffs between working another year vs. being retired for that extra year. (5:00)
A lack of trust in the economy leads a lot of people to work an extra year. But that year of retirement you're giving up is one where you're probably young and healthy. (6:25)
Liz details the three phases of retirement planning and how they play into the conversation about whether you should move your retirement date back. (11:40)
A financial purpose statement can help you make the best choice when you're faced with this decision. (14:50)