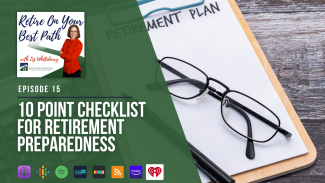 Ep 15: 10 Point Checklist For Retirement Preparedness
Another year is upon us and it's a great time to ask yourself 10 questions to assess how ready you are for retirement to kick off 2023. If you're retiring this year, it's essential to have some concrete answers to these questions.
In this episode, Liz will share this 10-point checklist and explain how each item might impact your retirement. If you're still a few years from the milestone, tune in so you can start thinking about these critical conversations.