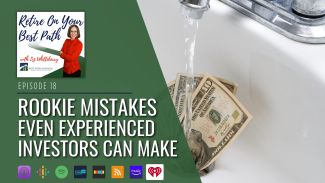 Ep 18: Rookie Mistakes Even Experienced Investors Can Make
Whether you're a beginner or an experienced investor, it's important to be aware of potential pitfalls that could derail your financial plan. On this episode, we'll cover some of the top rookie mistakes we see people make, illustrate how to avoid them or how to fix them if you've already made some mistakes in your financial life.
It's easy to get sucked into investment trends that do not align with your future goals, make emotionally based decisions, and to not fully understand the risks you are taking in your portfolio. Taking investment advice from friend "experts" and underestimating investment fees are other common points of frustration for experienced and inexperienced investors. 
Join us as we discuss some of these common investment mistakes and share tips on making choices that will benefit your long-term financial goals.
Here's some of what we'll discuss in this episode:
· The core of your financial portfolio needs to be aligned with your investment goals, rather than following popular investment fads and trends. (2:07)
· It's important to consider how risks change over time and have a system in place to assess the risks you are taking. (4:34)
· "It's hard for us to see our own biases." How our judgement can be clouded by the volatility of the market. (7:21)
· The potential danger of taking investment tips from your "expert" friends without doing the research yourself or seeking professional advice. (11:59)
· Are you overpaying for investment fees? (13:56)