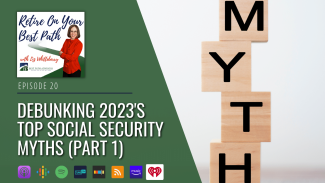 Ep 20: Part 1: Debunking 2023's Top Social Security Myths
Have you ever wondered if the Social Security system will run out of money before you retire? Or if claiming benefits as soon as you're eligible is the best decision for your financial future? In this two-part episode, we'll debunk the most common myths about Social Security.
Unfortunately, there are a lot of misconceptions about Social Security out there, and we're here to set the record straight. Tune in and learn the truth about this important benefit, so that you can make the most informed decisions for your financial future. If you have any questions about Social Security or your finances in general, please don't hesitate to reach out. We're here to help you get your money in order. 
Here's some of what we'll discuss in this episode: 
Myth: The Social Security Administration will help you make the best decisions about your benefit. (3:18)
Myth: You won't get any Social Security benefits if you're a stay-at-home mom. (5:04)
Myth: You won't pay taxes on Social Security. (7:23)