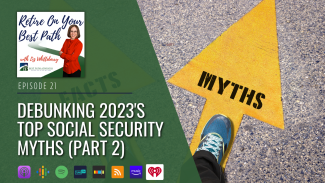 Ep 21: Part 2: Debunking 2023's Top Social Security Myths
Welcome to part 2 of our talk about this year's top Social Security myths. In part 1, we talked about the myths surrounding benefits for stay-at-home moms, taxes and whether the Social Security Administration can really help you make decisions. On today's show, we'll talk about when to claim benefits, whether you can work and still claim benefits and more.
There are a lot of misconceptions about Social Security out there, and we're here to set the record straight. Tune in and learn the truth about this important benefit, so that you can make the most informed decisions for your financial future. If you have any questions about Social Security or your finances in general, please don't hesitate to reach out. We're here to help you get your money in order.
Here's some of what we'll discuss in this episode:
Myth: You can't work and receive Social Security benefits at the same time. (2:14)
Myth: Benefits are only for U.S. citizens. (5:55)
Myth: If you have a pension, you don't qualify for benefits. (7:27)