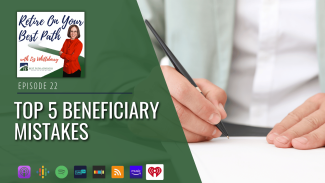 Ep 22: Top 5 Beneficiary Mistakes
Beneficiaries play a crucial role in a carefully planned retirement strategy. Although naming beneficiaries may appear straightforward, there are certain aspects of this process that are easy to overlook if you're not careful. Failing to handle these aspects correctly could cost you and your loved ones dearly in the future, so in today's episode, Liz will cover the essentials of this planning process. Join us and learn how to avoid these potential complications.  
We will discuss the significance of aligning your beneficiary designation with your will and explore the necessity of keeping your beneficiaries updated as your life circumstances change. Additionally, we will address the challenges associated with naming minors and estates as beneficiaries, the importance of selecting a successor, and more.
Here's some of what we'll discuss in this episode: 
The complications that come with naming a minor as a beneficiary. (2:30)
The importance of naming an alternate beneficiary. (3:48)
Not coordinating your beneficiary designations with your will. (8:59) 
Some pros and cons of naming your estate as a beneficiary. (12:59)
The importance of checking your application for errors, verifying your information is on file, and keeping copies for your records. (15:42)