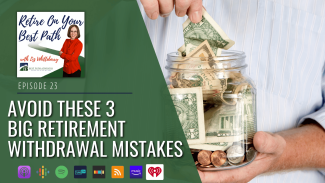 Ep 23: Avoid These 3 Big Retirement Withdrawal Mistakes

If you're approaching retirement, you're likely finding that there is much to think about when planning your retirement withdrawal strategy. Today, Liz and Marc talk about 3 common mistakes you should avoid to get the most out of your retirement savings. Join us as we dive into some popular portfolio strategies that are now a bit outdated and may not work for everyone. 
We'll kick off this episode by discussing the importance of understanding your cash flow. Then, we'll explore the importance of establishing a personalized withdrawal rate that aligns with your desired success and risk tolerance, instead of relying solely on a fixed rate like the 4% rule. Liz will then explain how planning strategically and taking advantage of lower tax brackets can lead to significant tax savings in retirement. We'll wrap up this episode by talking about the potential dangers of a set-it-and-forget-it 60/40 portfolio allocation. 
Stay tuned as we dive into the benefits of having a personalized, comprehensive plan instead of a one-size-fits-all solution. 
Here's some of what we'll discuss in this episode: 
Keeping track of your cash flow. (2:37)
Relying on the 4% rule + finding a personal, safe withdrawal rate for your specific situation. (4:34)
Relying on a traditional withdrawal strategy. (7:52) 
Relying on the 60/40 portfolio split. (11:37)