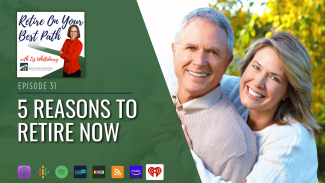 EP 31: 5 Reasons To Retire Now
Are you contemplating retirement but unsure if it's the right time? Retiring is a big decision, and the idea of this significant life change can feel intimidating. Many worry about whether they've saved enough, how long their retirement savings will last, and what unexpected events might impact their retirement. Listen in as we explore some common fears and uncertainties that hold people back from embracing this new chapter and explore 5 compelling reasons to consider retiring sooner rather than later. 
Whether you're concerned about money, identity, or simply the fear of the unknown, this episode provides actionable advice and stories that will empower you to approach retirement as an exciting adventure, not a daunting journey. With proper planning and a financial professional by your side, you can take on this exciting journey with confidence. 
Here's some of what we discuss in this episode:
As you approach retirement, time becomes more valuable than money. Consider how many moments you have left to spend with loved ones and prioritize making the most of those moments
Your health and energy levels may change as you age, so consider whether you want to retire while you are still in good health to make the most of your retirement years
There is no perfect time to retire. Economic conditions, inflation, and other factors can change unexpectedly. It's essential to have a well-thought-out retirement plan that accounts for uncertainties
A flexible retirement plan is key. Retirement plans should be adaptable to changing circumstances and market conditions
Many people are pleasantly surprised to discover that they are in better financial shape for retirement than they initially thought