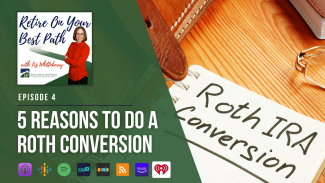 Ep 4: 5 Reasons to Do a Roth Conversion
The Roth conversion is a planning strategy that's picked up more and more interest in recent years. There are many reasons behind its rise in popularity, and now is a great time to have a discussion with your advisor about whether it might be right for you.
No tool is for everyone, but there are plenty of reasons why you'll want to do a Roth conversion. On this episode, we're going to share five of those reasons and explain the many benefits of doing a conversion sooner rather than later. Much of what we'll talk about today directly relates to taxes and tax planning and could pay off significantly in retirement.
Listen to this week's show to learn more about:
How you can take advantage of the current tax rate. (1:48)
The multiple reasons RMDs should weigh into your decision. (5:01)
What is Medicare IRMAA and why a Roth conversion could help with healthcare costs? (9:58)
People rarely think about the Widow's Tax but this could be another benefit. (12:04)
The reason a conversion could really benefit your heirs. (15:49)
Enjoyed the episode? Make sure to subscribe and share with your friends and family.