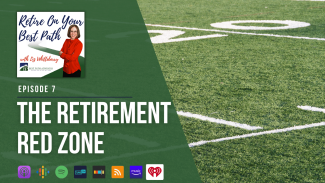 Ep 7: The Retirement Red Zone
You may or not be a football fan, but we're sure you'll benefit from learning about the red zone in retirement. In the game of football, the red zone is the last 20 yards before you score. In retirement, the red zone is the last five years before you retire, and the five years after.
In this episode, we are going to break down that ten-year period. We will cover the steps you need to take, what to watch for, and more.
 As an investor, how should you approach the red zone? (4:37)
 Here are three ways to approach retirement. (7:07)
 Are you completely unconcerned with your retirement plan? The rules are different in the red zone. (9:02)
 This is what you should do about 6-7 years before you retire. (11:40)