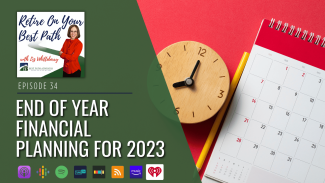 Episode 34: End Of Year Financial Planning
We're nearing the end of the year, but it's not quite over yet! Join us for a thoughtful episode where we unpack our 2023 edition of key year-end planning strategies for those nearing or embracing their retirement years. We'll explore the nuances of optimizing your investment portfolio, safeguarding your assets, and ensuring a stable, rewarding lifestyle in the years to come.
Together, we'll navigate through essential topics like managing RMDs, exploring tax-saving opportunities, and even touch on the cybersecurity threats that you should be looking out for this time of year. We'll also discuss some key estate planning issues that have been created by the SECURE Act. You don't want to miss this, so stay tuned!
Here's some of what we discuss in this episode:
Some general planning and investment strategies to focus on as the year winds down
The potential benefits of tax loss harvesting + addressing RMDs
Making sure insurance coverages aligns with your needs and exploring the benefits of HSAs
Making necessary changes to your budget or spending plan + staying active for a healthy retirement lifestyle
Potential advantages of making real estate moves toward the end of the year
Strategies to prepare and protect yourself from potential scams around the holidays
Year-end gifting considerations + estate planning changes brought about by the Secure Act
Featured Quote
"Take a minute to review your investments, your portfolio, make sure that you've weeded out any underperformers and …think about rebalancing."