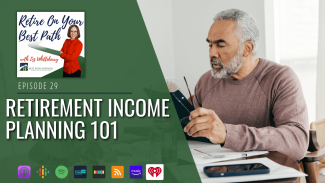 Retirement Income Planning 101
Are you financially prepared for retirement? Many individuals near retirement age find themselves facing uncertainty when it comes to their income plan. In this episode, we explore the importance of a well- constructed retirement income plan and why it's often overlooked.
Listen in as Liz shares insights on the complexities of retirement income planning and the dramatic shift from saving and accumulating wealth during one's working years to creating a sustainable income stream in retirement. Discover how having a well-structured retirement plan can alleviate the stress of retirement uncertainty, help you make informed decisions, and ensure you retire on your best path.
Here are the key takeaways from today's episode:
Having a well-structured income plan in retirement is crucial. Without one, retirees may struggle to manage their finances effectively and enjoy their retirement years.
Liz emphasizes the significance of understanding your cash flow during retirement. It's crucial to track your income, expenses, and any big-ticket items to create a solid financial plan.
Discover the unique financial challenges and lifestyle changes during the "Go Go," "Slow Go," and "No Go" phases of retirement, and how your income needs may vary.
A financial advisor can help you make the most of your retirement assets, minimize taxes, and ensure your long-term financial security.
FEATURED QUOTE
After retirement, you do need an income plan, you need to know how
you're going to create income from the retirement assets that you've
accumulated.